Thermax Electric Toaster –
The Thermax electric toaster was manufactured by Landers, Frary & Clark, and was made from approximately 1913 to 1917. Most of these ads were for electric power companies of the day. The ad below was in the Washington times in 1914 and said in part – $4 Electric Toasters For $2.00 Each These toasters are of the General Electric and the Thermax makes. Finished in nickel. Durable. Can be connected to the usual electric lighting fixture. Uses but small amount of electricity. Toasts bread crisp and brown. Don't miss this opportunity. This is a real bargain.
Here's one in a Tulsa newspaper in 1922 – The ad reads -Special Monday and all this week – Here are two worth-while bargains we want you to take advantage of. Come in Monday and you will not be disappointed. Thermax Electric Toaster Here is a toaster that has licensed clement, guaranteed for one year. A dandy at this price. This week, each $3.98.
Heres that same ad as a vintage print, restored and on archival paper – The image has been re-sized to a standard frame size to save the buyer money.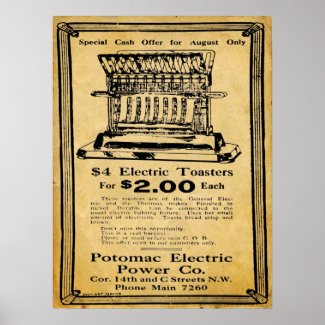 Vintage Thermax Electric Toaster Print
by
OldVintagePosters
Shop for a
Poster template
or design online at Zazzle.com