Locomotive Electric Washing Machine –
Locomotive Electric Washing Machine was made by the Remmert Manufacturing Company in Belleville, IL. and ran at 255 watts costing 2 and a half cents an hour to operate in 1920. It was a popular model and appeared in most major newspapers in the early 1900's.
Period Music – Southern Serenaders – Youve Gotta See Mamma Evry Night–

Construction – Consists of a boxlike copper tub (25 ½ x 14 x 14 ½ inches) so mounted upon four small wheels on a gray-painted steel frame that a one quarter horsepower Marathon motor moves the tub back and forth by a direct drive. Only three gears are necessary, one being for the wringer. A wooden-bearing American wringer with safety release is supported above the tub and may be used in any of five positions. A convenient lever stops, starts and reverses the operation of the wringer. A flat board which can be placed over the tub serves as a table lop. The machine occupies a floor space 4 x 1 ½ feet and with t he board in place stands 32 1/2 inches high. A shifter lever puts into operation and releases the tub gearing. A gas burner is located directly beneath tho tub and can be used during operation.
Special Features – This washer is all metal in construction with the exception of the wringer, The tub makes 59 complete strokes a minute and the motion is very like that of the connecting rod and cross head of a locomotive. The gas burner permits heating the water in the tub and also heating it during the. washing, thus preventing cooling of water during the operation and increasing efficiency. Twelve gallons of water are needed. Clothes to the equivalent of five or six sheets are washed in eight minutes. A temperature rise of 10 degrees during the washing was obtained. The full charge is run through the wringer in 13 minutes. The washer makes 59 complete strokes backward and forward in one minute with both washer and wringer in operation. It takes four minutes to drain tub.
The ad below appeared in 1920 and reads in part – The Locomotive washes with boiling water. Your clothes are not only washed but sterilized made absolutely free from any harmful germs. Think what this means for baby's clothes for yourself and all the family. And the ease with which Locomotive washes. The oscillating copper tub makes 60 oscillations per minute, developing the famous figure eight water motion that cleans so thoroughly. Boiling suds swish back and forth through your clothes in a continuous swirl that draws out grime and stains in the shortest time without injuring dainty fabrics. The combined figure eight motion and boiling while washing makes washing quicker and more thorough.
The next ad appeared the the New York Evening World in 1922 and had the price tag of $89.50.
This ad reads in part – Locomotive Electric Washing Machines Now Being Sold at the Extremely Low Price of 89.50. In this Special McCreery Sale The List Price is 160.00. A new shipment has just come in and we are glad to announce that these machines will go into this sale at the same low price. The Locomotive Washing Machine has a table board top for ironing and is equipped with a water heating device (a gas -heater) which enables you to wash, boil and sterilize your laundry without the use of a stove or extra boiler. Of course, if you prefer, hot water may be poured into it as one would with an ordinary washer.

The first ad is available as a restored print at Zazzle below –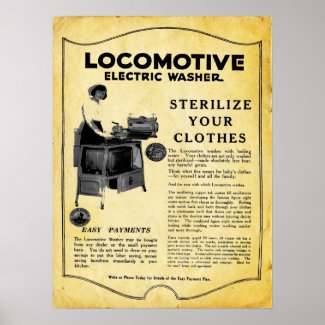 Vintage Locomotive Electric Clothes Washer Print
by
OldVintagePosters
Browse other
Locomotive Posters
Locomotive Electric Washing Machine